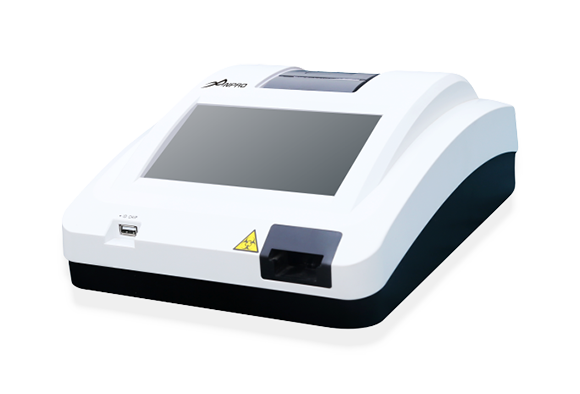 Heavy metal detector
Rapid detection of heavy metals in grain, grain products, feed and feed raw materials
1、Product features
Rapid: single product detection takes 10 minutes, and can detect 6 samples at the same time
Accuracy: quantitative test results, test results accuracy and stability comparable to atomic absorption spectrometry
Pioneer: the pioneer of domestic immune quantitative heavy metal detection products, with invention patents
Simple: no need for professional operators, a few simple steps to complete the test
Safety: preset standard curve, no need to contact standard
---
2、Function introduction
1)The instrument can simultaneously detect heavy metals in grain, grain products, feed and feed raw materials. It can be used to detect mycotoxins and pesticide residues. The system adopts portable or pull rod design to meet the needs of on-site and mobile detection.
2)Built in operating system, integrated computer control, no external computer, energy consumption ≤ 15W, detection data and location information can be sent to the network or data platform, can achieve seamless docking with various monitoring information systems. Cooperate with the information management platform for regional safety supervision and big data analysis and processing to facilitate the prediction and early warning of food safety problems.
3)Built in wireless transmission module, USB interface, RS232 interface, Ethernet port, data can be transmitted through wireless and wired connection, can add built-in GPS positioning module, real-time positioning.
4)Detector size: color resistance touch screen, memory: ≥ 2.05gb, built-in micro printer, no external printing equipment can print data on site.
5)220 V power supply, vehicle power supply, suitable for field operation.
6)Complete database function (real-time display, storage / more than 20000 test results, analysis, export, printing, processing test data), colloidal gold test card module storage records of test time, test unit, test personnel, test items, sample number, test results, reference values, etc.
7)Heavy metal cadmium and lead detection products have the product evaluation report of authoritative detection institutions in grain system.
---
3、Quantitative detection range of colloidal gold strip
| | | | |
| --- | --- | --- | --- |
| Serial number | Project | Scope of application | Detection range |
| 1 | Cd | Rice, brown rice, corn, wheat and other food crops, feed raw materials and feed, herbal medicine | 0.05-1mg/kg |
| 2 | Pb | Rice, brown rice, corn, wheat and other food crops, feed raw materials and feed, herbal medicine | 0.05-1mg/kg |
| 3 | Cu | Rice, brown rice, corn, wheat and other food crops, feed raw materials and feed, herbal medicine | 0.5-20mg/kg |
| 4 | Cr | Rice, brown rice, corn, wheat and other food crops, feed raw materials and feed, herbal medicine | 0.2-5mg/kg |

Mobile website